Increase Your Social Media Presence
with Help from Arcoaire
Despite turning 16 this year, Facebook remains as relevant as ever. Did you know:
► Facebook has 2.41 billion monthly active users.1
► 90 million small businesses use Facebook.1
► 71% of American adults use Facebook.1
► Facebook users spend 38 minutes using the platform every day.1
The more valuable content you can share with customers online, the more opportunities you have to expand your reach, boost your brand, and gain more business. There are two easy ways to increase your 2020 social media efforts and share more posts online:
1. Like the Arcoaire Facebook page.
2. Adjust your news feed preferences.
---
Like the Arcoaire Facebook Page

The Arcoaire Facebook page can help you expand your social media efforts. Please visit and Like the Arcoaire Facebook page.

Each week, we post product information, HVAC tips, DIY suggestions, and more. It's great content for you to share through your Facebook channels to boost your social media presence and gain more followers.
---
Adjust Your Facebook News Feed Preferences to Receive the Most Arcoaire Content

Have you Liked the Arcoaire Facebook page, but haven't seen many posts recently? Facebook made changes to the news feed process awhile back, and that algorithm may be the reason why. Facebook wants to prioritize content from family, friends and groups over business pages like Arcoaire's. But, there's an easy way to fix that so you don't miss out on posts from Arcoaire.
In a few simple steps, you can adjust your Facebook news feed preferences to receive the most Arcoaire content possible:
Visit the Arcoaire Facebook page.

Select the "Following" tab at the top of the Arcoaire Facebook page.
Under "In Your News Feed," select "See First" so that a check mark appears next to it.

It's Easy to Adjust Your Facebook® News Feed Preferences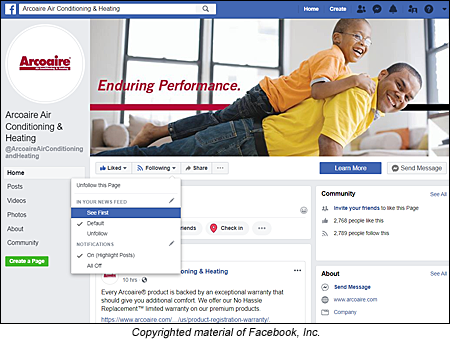 ---
Once you've Liked the Arcoaire Facebook page and adjusted your news feed preferences so you see Arcoaire posts first, you'll have lots of valuable social media content to share with customers, family and friends. Like the Arcoaire Facebook page today so we can help you meet your 2020 social media goals!
---
Facebook is a registered trademark of Facebook, Inc.
1https://blog.hootsuite.com/facebook-statistics/