Responding Professionally to Negative Reviews
Are online reviews important? Do they really impact the number of customers who call or stop in to my heating and cooling business? Will reviews have an effect on my sales this year?
YES! Online reviews are very important, and they have a profound effect on your business. "Nearly 9 out of 10 consumers read reviews for local businesses before making a purchase," according to Bryan Caplan's "Top 60 Online Reviews Statistics for 2020." He goes on to say that, "customers spend 31 percent more when a business has positive reviews."1
How can you encourage more five-star reviews and turn one-star reviews around? Today, we offer five ways you can effectively manage your online reputation and respond to negative reviews:
Respond quickly and professionally,

Apologize sincerely,

Research and resolve the issue for the customer,

As the reviewer if s/he would re-evaluate your business,
Consistently ask for online reviews.
If you follow this 5-step approach, you may be able to turn the few one-star ratings you receive into five-star ratings for your business. Let's get started!
---
Respond Quickly and Professionally
If you receive a negative review, it's important to respond quickly and professionally. People have already seen the bad comment online, so don't try to remove, hide or delete it. Instead, turn the review into a learning opportunity for you and your employees and an online customer service opportunity by making it right for the customer.
According to Caplan, "89 percent of prospective customers read the [business] response to online reviews,"1 so you want to respond to a negative review within 24 hours and treat the customer with respect and kindness.
Monitoring your social media platforms on a daily basis will help you respond quickly. If you notice a negative review on Facebook®, Yelp®, Google+®, or other review sites, reach out to the customer immediately to research the problem and resolve it.
---
Apologize Sincerely
You've probably heard the phrase, "the customer is always right!" So, apologize sincerely for the issue, even if you disagree with the customer's point of view. Restate the problem so the customer knows that you heard them and then publicly say you are sorry.
In her article, "6 Steps to Handle Negative Customer Reviews Successfully," Elise Dopson uses the following Starbucks® Twitter® response to demonstrate how business owners can apologize sincerely to a customer for the issue, while also getting additional information to research the problem further.2
Notice how the store manager apologizes to the customer in his own words and then offers to look into the problem for her. Then, he asks if the customer could send a quick direct message to him with more details so he can research and resolve the issue.
A Sincere Apology is the First Step in Responding to a Customer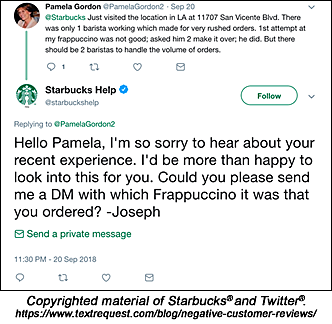 ---
Research and Resolve the Issue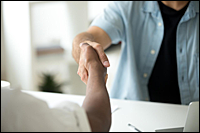 Once you've responded to the customer by restating the problem and apologizing, it's important to research and resolve the issue. In order to find out exactly what went wrong with the transaction, you may need to ask for additional information from the customer, including their phone number, address or credit card details. When it comes to this type of personal data, it's usually best to take the conversation offline. Politely ask the customer if they can send you a personal/direct message or email or provide your contact information so you can research the issue for them.
Then, be willing to offer a fair solution. At this point, you might ask the customer, "What can I do to make it right?" Or, consider offering a product refund, a discount or a coupon for free services next time. Encourage the customer to come back and give your business a second chance. Once you and the customer have reached a feasible solution, take it online so other potential customers know you've corrected the problem. According to Caplan, "7 out of 10 consumers changed their opinion about a brand after the company replied to a review."1
---
Ask the Reviewer if S/he Would Re-evaluate Your Business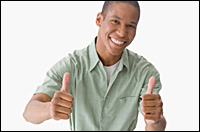 You've apologized and resolved the issue for the customer and shared the solution online. However, the original negative review is still there, pulling down your overall business rating.
If you've made things right for the customer, don't hesitate to politely ask if they will reconsider their one-star rating. Best case scenario: the customer will re-evaluate your business and bestow a five-star rating. Worst case scenario: the negative review remains, but with your apologetic response and customer-focused solution.
---
Consistently Ask for Online Reviews
One of the best ways to offset a negative review is to encourage more (hopefully positive) reviews. Add review site icons and links to your website. Include a note on the bottom of your equipment/service order or customer receipt asking for reviews on Facebook®, Yelp®, Google+® or other sites. Put a sign up in your showroom or business office or develop a customer survey so you can get feedback on your business and your employees, continually improve upon customer service, and head off any potential negative online reviews.
---
As far-fetched as it sounds, negative reviews can benefit your business if you handle the situation promptly, fairly and professionally. You can turn a dissatisfied customer into a lifelong customer using the five simple reputation management techniques discussed today. So, get online and add some stars to your review sites!

---
1 www.bryancaplan.com/blog-posts/top-60-online-reviews-statistics-2020
2 www.textrequest.com/blog/negative-customer-reviews/
Trademarks are the property of their respective owners.