Reach More Customers and
Build Your Brand with Video Marketing
Did you know that YouTube® has 2 billion logged-in users every month?1 That's quite an audience.
Would you like to put that statistic to work for your business? YouTube advertising is helping businesses gain more customers, build their brands, and increase sales. According to Brandwatch®, viewers who watched a YouTube ad to completion or at least 30 seconds were 23 times more likely to visit or subscribe to a brand channel, watch more videos by that brand, or share the brand video.2
Interested in knowing how you could extend your customer reach with video marketing on YouTube? Let's discuss:
What are the types of YouTube ads?

How do I create my own YouTube video ad?

How do I launch my YouTube video ad?
---
What are the Types of YouTube Ads?
There are three types of YouTube ads: TrueView, Preroll and Bumper. Let's discuss each type of video advertising:
1. TrueView: TrueView ads are the most frequently used type of YouTube ad, and for good reason. One of the benefits of a TrueView ad for you as an advertiser is that you only pay for it when viewers watch at least 30 seconds of your ad or the viewer clicks on a call-to-action from your ad.

In her article, "YouTube Ads for Beginners: How to Launch & Optimize a YouTube Video Advertising Campaign," Jami Oetting explains that TrueView ads are opportunities for telling your story in a way that encourages the viewer to keep watching.3 Click here for more information on True View ads.

There are two types of TrueView ads:

a. TrueView In-stream: TrueView In-stream ads play before or during another YouTube video. Users view about five seconds of your ad. Then, they can choose to continue watching your ad or skip it.

b. TrueView Video Discovery: A TrueView Video Discovery ad plays next to other related YouTube videos, on YouTube search pages or on websites that match your target audience.

TrueView In-stream and Video Discovery Ads on YouTube®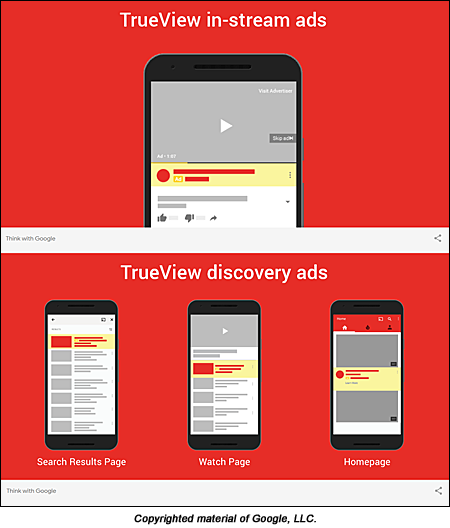 2. Preroll: Preroll ads are YouTube ads that typically play before the main video. If the main video is ten minutes or longer, these ads can also play mid-roll or after the main video.

The beauty of a preroll ad is that it can't be skipped so you have a captive audience. However, you pay for that captive audience on a pay-per-click (PPC) basis. This type of ad is best utilized when you are introducing a new product or promoting a special event and you want to reach more customers. Include a call-to-action on your preroll ad and encourage potential customers to click-through to your channel and website. That way, you can extend your reach and get the best return on investment.

3. Bumper: Bumper ads are short, six-second ads that play before a viewer's chosen video. Think of it like a bumper on a car: a small cushion of advertising between YouTube videos. Bumper ads complement longer TrueView ads, focusing on the high points of your business and your brand.
---
How Do I Create My Own YouTube Video Ad?

Now that you have a better idea of the types of YouTube ads, you need to create your YouTube video ad. You can create your own video ad or work with a video marketing company to bring it to life.
Creating Your Own Ad
1. Prepare Your Script, Cast, Location and Props: First, determine the type of video ad you would like to create and the goals you have for the ad. Is it a business story or overview? Are you releasing a new product or service?
a. Develop a storyboard and a script for your video. It helps to write out what you'd like to say in your video ad. Read it to friends and family to get feedback and time length (most TrueView ads are 30 seconds to a minute in length). Then, adjust the script as needed.
b. Decide who you would like to star in your video ad. If it's a business overview ad and you are the owner, you might be the best choice. If you are introducing a new product or service, a technician or customer service representative may be the star.
c. Where are you shooting this video? At your office or home? Inside or outside?
d. Do you need any props? Show off that new product.
2. Shoot your video. Now that you have your script, cast, location and props, you're ready to shoot your video!
a. Decide on a camera: Honestly, most people use their smart phone to shoot videos because they feel most comfortable with it. You don't need to go out and spend a lot of money on a new camera.
b. Lighting: Will your video be shot inside or outside? Natural, indirect lighting is best, so your star is not squinting from the sun or has shadows on his/her face.
c. Audio: Test the microphone on your camera and listen to your surroundings before shooting a video. You don't want a semi-truck barreling down the highway in the background of your video. Ensure your star is heard clearly and extraneous noise is kept to a minimum.
d. Filming: Try to film your video a few times, from a variety of angles. The more video footage you have, the more you have to work with when editing.
3. Edit your video. It's easy to edit your video ad once you have footage on your smart phone or video camera. Check out the "Total Beginner's Guide to Editing," on YouTube's Creator Academy for more information.4
Check Out YouTube's Creator Academy for Editing Tips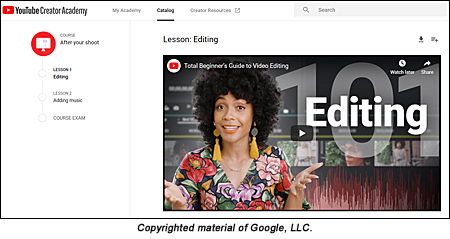 Working with a Video Marketing Company to Create Your Ad
If you'd prefer to partner with a video services company to develop your ad, there are several companies, including Promo.com®, Tongal® and others, that specialize in video marketing. Click here for more information on the companies, the services offered, the cost and the turnaround times.
---
How Do I Launch My YouTube Video Ad?
Ready to launch your YouTube video ad? Let's roll! First, you'll upload your video ad. Next, decide on a targeted audience for your ad. Finally, determine the budget for your YouTube advertising campaign. Click here to learn how to launch your video advertising campaign on YouTube using Google Ads®.
Launching Your Video Ad Using Google Ads®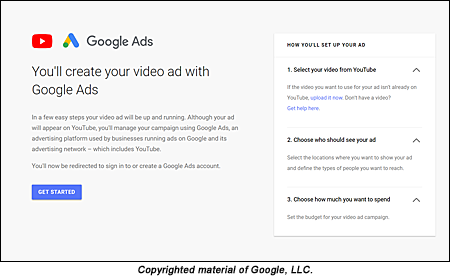 ---
Now that you have a better understanding of the types of YouTube ads, how to create your own video ad, and how to launch your video advertising campaign, you're ready to advertise on YouTube. YouTube advertising is a great way to help you build your brand, gain more customers and increase sales. Let's get started today...ACTION!
---
Third party trademarks are the property of their respective owners.
1 https://blog.hootsuite.com/youtube-stats-marketers/
2 https://www.brandwatch.com/blog/youtube-stats/
3 https://blog.hubspot.com/marketing/youtube-video-advertising-guide
4 https://creatoracademy.youtube.com/page/lesson/editing