Integrate YouTube® Into Your 2020 Marketing Strategy
Video is Vital to Growing Your Business Online
You've probably watched a "how-to" video on YouTube® to learn about the latest DIY home project. And, your teenagers are glued to trending YouTube videos that are popular at school. But, have you thought about integrating YouTube into your business marketing strategy for 2020?
If you haven't already started your business YouTube channel, these statistics may change your mind:

YouTube is the second most popular search engine in the world, according to Dave Davies of Search Engine Journal® in his article, "Meet the 7 Most Popular Search Engines in the World."


According to YouTube, "over 1.9 billion logged-in users visit YouTube each month, and every day people watch over a billion hours of video and generate billions of views."


In the third quarter of 2019, it was found that 71 percent of U.S. internet users aged 26 to 35 years accessed YouTube, according to Statista®.
As you can see, YouTube provides a HUGE opportunity to grow your business and your brand online. Once you get your video channel up and running on YouTube, you can work to get additional subscribers and increase your marketing presence globally. And, the beauty of YouTube is it's FREE!
---
How Can I Get Started on YouTube?
It's easy to create your free business YouTube channel:
Since YouTube is a Google® product, you will be asked to create a Google account (if you don't already have one) so that you can create your YouTube channel. You'll want to set up a special kind of account for your business or brand called a Brand Account. With a Brand Account, you can use certain Google services, like Google+® and YouTube. Click here for more information on Brand Accounts and how they work with YouTube.


Visit www.YouTube.com and click Sign In. Sign in using your Google account information or choose Create Account to Manage My Business.
Google® Sign In Screen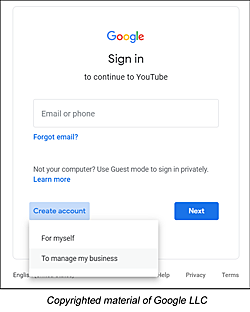 Once you have signed in to your Google account, you can create your business YouTube channel. Go to Settings.


Click Create New Channel.


Complete the details for your new channel (typically your business name) and verify your account. Then, click Done. It's that simple. You've created your new YouTube channel.


Now, brand your channel by uploading a profile image and a header image. Click here to learn more about creating your new YouTube channel art.


YouTube has a resource called Creator Academy that can help you get started, teach you YouTube Basics, and offer tips on the best ways to brand your channel. For more information on Creator Academy or to watch the video lessons, click here.
Creator Academy Offers Videos to Help You Get Started on YouTube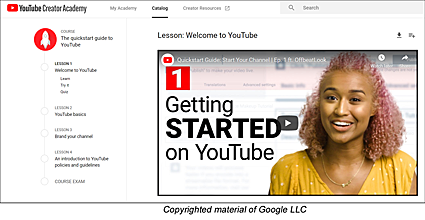 ---
How Can I Make the Most of YouTube?
Here are a few tips for building your YouTube channel:
Post videos that offer helpful content rather than a sales pitch: Post an educational video that shows customers how to easily program their Ion® System Control or demonstrates how to change the filter on an Arcoaire® furnace. These are just two ways to position yourself as an Arcoaire heating and cooling expert while keeping the video content informative, fun and engaging.

Add titles, descriptions, keywords and tags to your videos so they can easily found online: As the second largest search engine, YouTube is a place that customers go looking for specific content. Include compelling titles and video descriptions so they can easily find you and your videos online. When deciding on keywords or tags, choose specific words that help define your video and the content you are sharing. Click here to learn more on descriptions, keywords and tags by watching the Creator Academy "Learn the Basics of YouTube" video.


Encourage viewers to visit your website: Include a link to your website in your video description. The YouTube "About" section and the header of your YouTube channel art might be other places you can share your website link.


Include a call-to-action: Adding a call-to-action, even one as simple as "Call ABC Heating & Cooling at 555-123-4567 for more information," creates a greater opportunity for engagement with customers. Make sure potential customers know how to get in touch with you once they have watched your video. They may have additional questions or want to schedule an appointment.


Respond to comments: As a social media platform, YouTube offers viewers the opportunity to comment on videos and ask questions. Be sure to respond to questions and communicate with customers to position yourself as a resource.


Promote your YouTube channel: Include a link to your YouTube channel on your email signatures and review requests, add it to your company e-newsletters and cross promote the videos on other social media outlets.


YouTube videos don't need to be "motion picture" quality: Your YouTube videos don't need to be ready for the big screen. That's the beauty of YouTube. Viewers can enjoy a "behind the scenes" or "insider's view" of your business, your employees and your heating and cooling knowledge.


Experiment to see what works: Every video is not created equally. You might start with a two-minute, interview-style video and see what happens. Next time, try a longer "how-to" video and see if you get more viewers/subscribers. Experiment with different video lengths and formats until you find your niche.
---
Now that you better understand the marketing potential YouTube offers, how to create your own business YouTube channel, and how to make the most of it, it's time to integrate it into your marketing strategy for 2020. Let's get out there and start making YouTube videos!
---
Google, Google+ and YouTube are registered trademarks of Google LLC.
Search Engine Journal is a registered service mark of Alpha Brand Media, Inc.
Statista is a registered service mark of Statista, Inc.