Develop Engaging Posts with Facebook® Page Insights

According to Zephoria® Digital Marketing®, there were 2.32 billion monthly active users on Facebook as of December 2018.1 Wow! That's a huge audience of potential customers that you and your business have access to online.

Engage this large customer base by creating a Facebook page for your business if you haven't yet. If you already have a business Facebook page, that's great! Facebook Insights® can help you take that success to the next level. With Facebook (and really any social media platform), it's important to focus on two key aspects:
Audience: Who are your customers? What's important to them? How can you educate or help them with their heating and cooling needs? Where are they located? What is their age range and other important demographics?


Content: What topics are your followers interested in? New Arcoaire® equipment? Reducing energy costs? Home DIY? Where are they online? How can you keep them engaged and encourage more page followers?
Facebook Insights is a free analytics tool that measures how your Facebook business page is performing and provides data about your audience and content.
As mentioned in Part 1 of this series, Facebook Audience Insights can help you better understand your customers by tracking metric like Promotions, Followers, Likes, Reach and People.
Today, we'll focus on Facebook Page Insights so you can improve the content posted to your page and keep customers coming back for more. Page Views / Previews, Actions on Page, Posts, Events, Videos and Messages are some of the metrics affiliated with Page Insights. Let's get started!
---
Page Views / Previews
Once you've logged in to your Facebook business page and clicked on Facebook Insights, select the Page Views or Previews. Page Views provides a snapshot of who has viewed your page (by age, gender, city, country and device type) and which sections of your page they viewed.

The Page Previews tab shows a breakdown of who previewed your page. These metrics can help you customize future posts or promotions to a specific audience based on demographics.
---
Actions on Page
The Actions on Page tab helps you better understand what people are doing on your page. Are they clicking to get directions to your business? Or, clicking your phone number, website link or a call to action?

---
Posts
If you click the Posts tab, a few graphs appear, including:

1. When Your Fans are Online: Want to know the best time for your brand to post on Facebook to get the most engagement? Find out using this metric and schedule your posts when your fans are online.
Find Out When Your Fans are Online to Know the Best Time to Post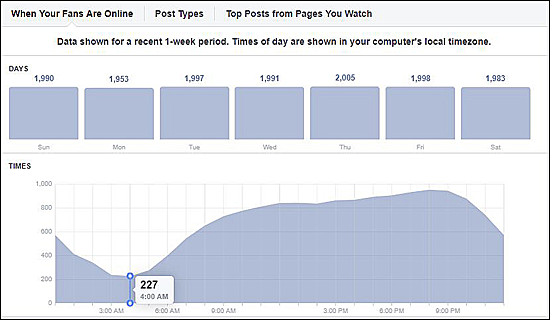 Source: Facebook
2. All Posts Published: This metric provides vital information on your posts so you know what content is most effective. What's getting the greatest reach and engagement? Specific topics? Copy only? Photos? Infographics?
Achieve the Greatest Reach and Engagement with All Posts Published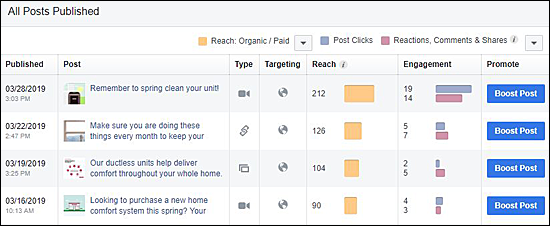 Source: Facebook
3. Post Types: Performance can differ depending on the type of information posted. Is your audience most interested in links, photos, statuses or videos? Find out using this metric and develop future posts to get more Followers, Likes, Shares and Referrals.
Analyze Post Types to Determine the Most Effective Content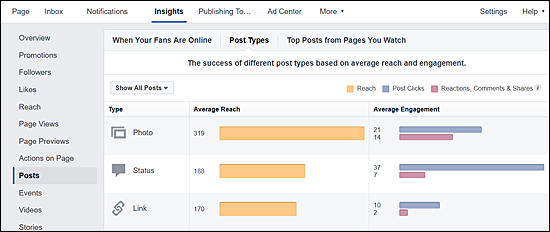 Source: Facebook
---
Events
Let's say you have quarterly open houses at your business to showcase new Arcoaire® products or you are participating in a local philanthropic event. Then, the Events tab may prove helpful. Once you post the event on your Facebook page, you can track the number of people who saw your event, who responded to your event and key demographics on event followers. Use this information to plan your next open house or fundraiser and increase attendance!

---
Videos
With the introduction of Facebook Live and other video platforms, more businesses are integrating the use of video into their social media strategy. And, people are watching those Facebook videos — approximately 8 billion views per day according to Mediakix®.2

Analyze the video content on your page using the Videos tab of Facebook Insights. Find out the number of video views the length of time users spent watching each video, and the top videos on your page. You can also get statistics on organic vs. paid videos, unique vs. repeat, auto-view vs. click-to-play, etc.
---
Messages
Find out how responsive you've been on Facebook Messenger with the Messages tab. It's important to respond to customer questions quickly on Facebook to ensure good customer service. You can also check the number of conversations you've had with users and other key data related to Facebook messages.

---
Content is King
Today, we discussed how to use Facebook Page Insights to create content that keeps customers coming back to your business page. Now that you have a better idea of how these metrics work, you can adjust your content for increased audience engagement. Click here for additional information on Facebook Page Insights.3
---
Facebook and Facebook Insights are registered trademarks of Facebook, Inc.
1 Zephoria is a registered trademark of Zephoria, Inc. https://zephoria.com/top-15-valuable-facebook-statistics/
2 http://mediakix.com/2016/08/facebook-video-statistics-everyone-needs-know/#gs.3ta2rt
3 https://www.facebook.com/business/pages/manage